News
To Infinity and Beyond with Gaurav Gupta
Interviews
Gaurav Gupta started with zero for his Spring Summer 2023 Haute Couture collection. More specifically, śūnya, the Sanskrit word for zero. The concept was first discovered in Gupta's native India, although he wasn't overly concerned with the mathematical minutiae or history of zero. He zeroed in on the space between the number and infinity. It allowed him to establish a deeper understanding of how and why he works the way he has for 18 years. The avant-garde manner of his elaborate dresses are forms with neither beginning nor end; their structure is rooted in the pure exultation of haute couture, where both the resources and the possibilities are conceivably infinite. 
With craftsmanship being the essence of haute couture, Gupta incorporated multiple techniques that one could pore over for hours. Many fabrics, including brocade and organzas, are hand-woven in India. He has also introduced more daring concepts with what he calls "naked" dresses, which feature a dégradé embroidery resembling eroding fabric or clouds disappearing. 
Calling from his hotel room in Paris, Gupta said, "Haute couture takes a particular person. It's a mindset. I've always been very detailed in my thought process and extremely conceptual."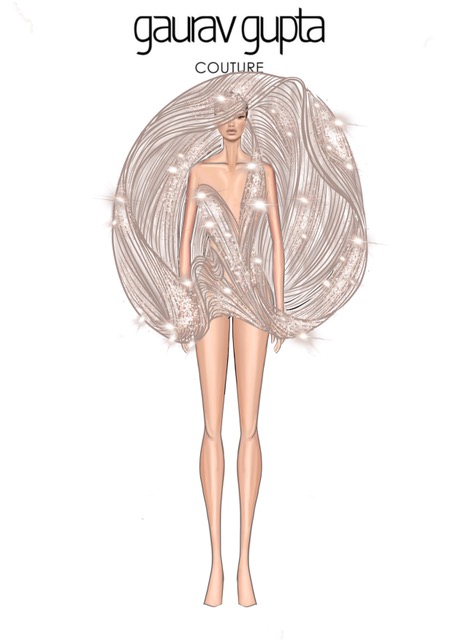 Tell us about your path to becoming a couture designer?
Five to seven years into launching my brand in India, after graduating from Central Saint Martins, we started doing more and more evening looks, everything became more detailed. Having my brand in India, working with the craftsmen and artisans with the kind of embroideries and traditional crafts that are thousands of years old is another universe altogether. For us, exploring haute couture as a layer within Indian culture is interesting as well, because they are now able to wear European or conceptual silhouettes, almost sculptures. That is the power of couture and cultural shift, and the power of the thought process. It can make a generation of people evolve or devolve or think differently. 
What moment, design, or collection marked a turning point for you?
I've had my brand for 18 years so there's been a few. When I graduated from Central Saint Martins, I was invited to showcase at Alta Moda. While a graduate student, the mayor of Rome gave me a trophy, [which was] very encouraging. Another turning point was in 2013 when I did a collection in India called 'Lightfall.' It was much more elevated, I think I was in my zone. The first look was a mask of a half-naked woman covered with only embroidery on one side. Imagine, this is a bridal fashion week in India. I wanted to shock the cultural state of it. It was a big hit. I sold 200 of those dresses in India. Last year was also momentous for us in that we worked with cultural icons like Megan Thee Stallion, Cardi B, and Sharon Stone.
Many couture houses propose a story or theme each season. Is there a story to this collection?
Our clothes are not very Indian, even though I'm from India. I wanted to subliminally look at an Indian inspiration and delve deeper into it. I was inspired by śūnya. Before zero was discovered, there was no positive or negative. I'm exploring the space between zero and infinity. Our garments don't have a starting point or an ending point; they're not cut from patterns but it's a matter of movement and infinity. My concept is when you shake zero, it becomes infinity. 
The essence of couture is craftsmanship, the preservation of tradition. How do you integrate this in your creation?
We've taken ancient techniques and made our own fabric development. We're doing them on hand-woven tissue or hand-woven brocades in India, [as well as] organza, crepes, chiffons and satins. We've been doing that for a while but I love going deeper. We have this sculpting technique, which is very intrinsic to our brand, where we make 3D shapes with [fabrics] around the bodies. There's an [order] to the collection so it goes from gold and silver to indigo, electric blue, which is like a splash of another dimension, and then into elemental 'naked' dresses that look like they're eroding. I wanted to keep the references to something ancient, and the abstract [aspects] in  nature subliminal.
How do you think of couture evolving for today as a contemporary proposition?
Originality always stays. What the discerning clients out there are looking for is an original thought process. To me, that is the key point. And then, she wants to feel celebrated; she wants to feel like the muse. The client wants to live the complete fantasy.
Also, as a brand, we want to represent different people. It's natural for us to have bigger girls in our shows as well. We have clients that are 3XL from around the world and we make dresses for them. In that sense, Cardi B, Megan Thee Stallion, and Lizzo are curvy girls, and we made couture for them. It's not even just about body types, it's about the mind too. There's so many things to celebrate and there are no boundaries. Right now, we live in a very progressive mind zone in the world, and haute couture has to resonate with that. Fashion is a cultural conversation about what is happening in society. It's very important for us to be progressive too
This interview has been lightly edited for clarity.